The Central government has announced on Friday that Lockdown will be extended by 17th May 2020. In order to prevent the spread of virus and get back the economy on track, the government has decided to permit certain activities but with certain restrictions and rules.
Although, Ministry of home affairs has announced the liquor and tobacco shops will be opened in the green, orange and outside the containment or hotspot in red zones. But shopkeepers have to maintain 2-meter distances between all customers. This order will be applicable on standalone (single) shops, liquor and tobacco shops in mall will remain closed. It means cities like – Delhi, Mumbai, Jaipur, Indore, Kota, Hyderabad, Kolkata, etc. which all are in the red zone due to high Covid-19 cases, liquor shops will open-unless they're located in a market.
Apart from this, MHA guidelines state that "all standalone shops, shops in residential complexes and neighbourhood colony permitted to open in urban areas" with the distinction of essential and non-essentials. However, it is up to states to decide whether to open these shops, as the Centre has left the entire decision on them to take strict actions depending on the situation.
Besides the liquor and tobacco, here's the list below which will help you to know what is allowed inside and outside of containment areas (with restrictions).
Red Zone:
Urban areas – Movement of people and vehicles for permitted activities, medical devices, industrial establishments like SEZs, manufacturing of essential products, i.e. drugs and medical devices etc. and their supply chain jute industry, manufacturing of IT hardware and constructions (only if workers residing on-site).
On the other hand, standalone shops in neighbourhood, residential complexes (essential and non-essential items), private offices with 33% of the workforce, e-commerce activities of essential goods, government offices, operations of homes for senior citizens and children etc. and emergency, health and security services.
In Rural areas – All types of industrial activities, all shops except shopping malls, health services, public utilities, all agriculture, financial sector including banks, NBFCs, etc. courier, IT, ITeS, electronic media, warehouse services by self-employed persons except barbers.
Orange Zone: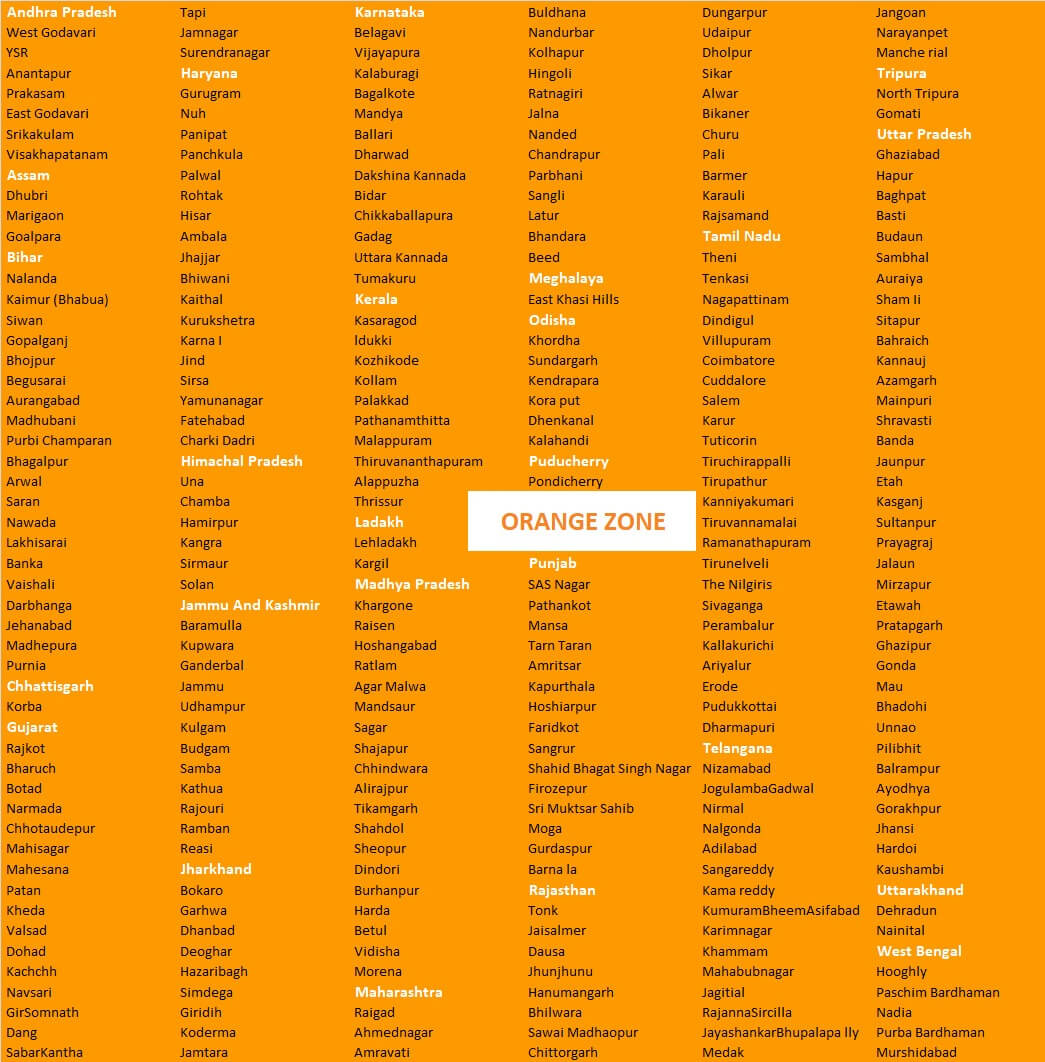 Restricted activities- Inter and Intra-district plying of buses, except those which are allowed by MHA.
Permitted activities- All activities permitted in the red zone (outside containment area) taxi drivers with 2 passengers only, 4 wheelers with 2 passengers including the driver, pillion riding on 2 wheelers and inter-district movement of people.
Green Zone:
All activities allowed except those prohibited by the central government over the nation. Buses can move with 50% capacity. All goods traffic is permitted. Movement of cargo for cross land-border trade under treaties will also be allowed. E-commerce activities for essential and non-essential items.
Services that are prohibited/ allowed in all zones-
Air, rail, sea and metro train services are not allowed in any of the zones.
Above 65 years people, pregnant women, co-diseased person and kids under 10 years shall stay at home.
No separate pass of any kind is required for such movement, goods supply chain and services the nation over during the lockdown time frame.
OPDs and clinical facilities will be allowed to work in red, orange and green zones with all social distancing standards.
The states/UTs can permit just specific activities from the list of allowed activities and impose extra limitations dependent on their evaluation of the circumstance. The essential goal is to keep the spread of Covid-19 under wraps.
The Spot of huge gathering as Multiplex, Halls, shopping malls, gym, school, college, institutions, hotels & restaurants, social, political gathering, cultural programs, and all sorts of gathering, religious place of worship for public remain shut during this lockdown 3.0.